Accounting services
The basic purpose of accounting is to provide decision-makers within a company with information about the performance, financial position, and cash flows of a business. Decisions based on such information determine prices, salaries, goods and services a company produces and ultimately the profit it gains.
Since the decisions that management makes rely heavily on the information collected by accounting, it is of great importance to ensure that all accounting information is accurate and reliable.
The core of accounting is to understand requirements of financial reporting, tax regulation and rules that apply. Accounting should be able to design accounting systems and internal control systems, interpret and record complex transactions and assist managers in all understanding all kinds of accounting data.
In scope of our accounting services, Portal AFC will also provide professional opinions in solving problems that may seem unsurmountable.
Our services comprise:
Accounting services
Cash register
Fixed assets
Payroll
Tax records and filing (VAT)
Yearly reporting (corporation tax, balance sheets, P&L, notes)
Reporting on demand
Cost of opening new tenant
Other services.
Aside from accounting services, we can also provide financial management, business consulting and administrative services.
PORTAL AFC - a reliable partner for your business success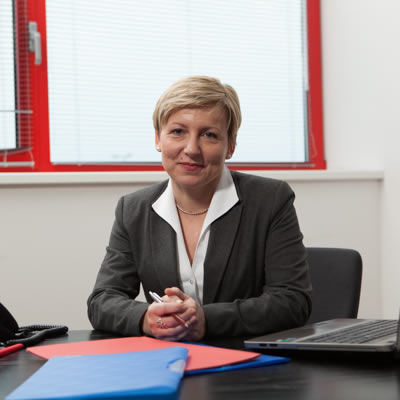 Vlatka Beketić
master of economics
I have started my professional career in accounting and finance, first in small Croatian enterprises and later on in big foreign corporations. During the last 16 years I have worked in the position of head of accounting and finance. At the beginning of 2016 together with my colleagues I decided to start our own company - Portal AFC Ltd. Our formula for success is combination of our knowledge and experience, team work of the last 13 years, as well as the results we achieved.
Franjo Sabljak
master of economics
Planning of investment projects. I stared my professional career in the export department of a manufacturing company and then moved on to managing the retail department within the same company. I was working on preparation of feasibility studies and later on I became entirely dedicated to finance and accounting of large, medium and small enterprises. At the beginning of 2016 my long-term associates and I launched a project aiming to provide our expert services service in accounting and finance, administration and consulting to a wider range of clients.
Jasminka Vukelić
I look back on 16 years of experience in accounting operations, book-keeping and accounting processes, more than 10 of which I have worked with the same team in accounting and finance.
Every new job is a challenge for me. I am looking forward to working with you.